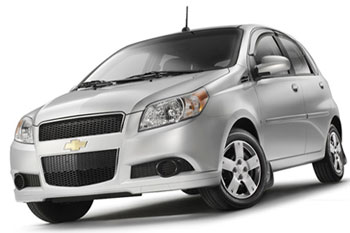 Chevrolet Aveo Review: The Chevrolet Aveo is an economical family sedan that delivers reasonably well in most aspects. With a price tag (MSRP between $11,965 and $15,365) that makes other subcompact cars go green with envy, the Chevrolet Aveo is available for 2009 in three trims namely LS 4-Door, LT 4-Door and LT2 4-Door. For 2009, the revised engine design promises to deliver much better fuel economy, adding to the competitive strength of this small car. There isn't anything spectacular about this car, but it doesn't disappoint the budget buyers. The 2009 Aveo has a reasonably powerful fuel efficient engine coupled with decent interiors and clean exteriors.
For starters, the 1.6 L four cylinder engine delivers 107 hp. All trims are mated to a 5-speed manual transmission equipped with a shift indicator to improve on the fuel economy. Admittedly, it isn't too much fun driving a Chevrolet Aveo as compared to many others in the subcompact segment. But yes, there is no denying that the Chevrolet Aveo is easy to drive. For in-city commuting, this car certainly attracts attention. Suspension is well-tuned and steering is responsive.
Interiors manage to look classy and the build quality is also quite good. Cloth upholstery, 14-inch wheels, intermittent windshield wipers and an acceptable 4-speaker stereo system come in the base LS trim. The higher trims come with additional features like heated power side view mirrors, better upholstery and 15-inch wheels. The design features are good enough to attract both young and old. It has a market for young people who do not want to spend a lot on their first car as well as those who want to have a good back-up second car in their homes.
The Aveo isn't lacking in safety standards. Although not furnished with sophisticated safety features, the car easily scores a full 5 on 5 (frontal impact safety-driver) and 4 on 5 (frontal impact-passenger) in crash tests by the National Highway Traffic Safety Administration.
Newsday does a good job of outlining the Chevrolet Aveo in a single sentence: "In sum, the Aveo doesn't excel at anything, but it's a decent second car. If it doesn't surprise or delight, it won't disgust or anger you, either."