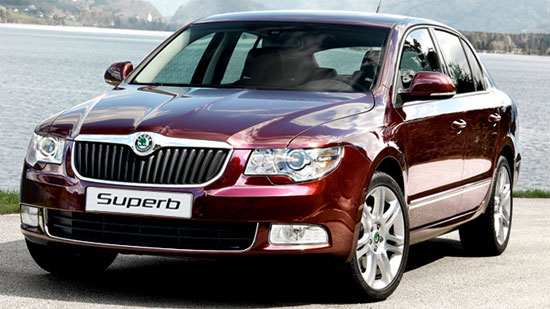 March 10, 2009 saw the unraveling of the new Skoda Superb from Skoda India. Promising a never before seen or experienced "7-star experience", Mr. Thomas Kuehl, Board Member, Sales and Marketing, Skoda Auto India assured luxury car patrons in India of a completely new occurrence that in a sense redefined the very concept of luxury.
He particularly harped on 7 different value propositions of the new Superb that helped it stand out from the rest:
Design – Distinguishing, graceful & fascinating exterior design in a leather, wood & chrome package.
Safety – As many as eight different airbags; also a revolutionary Adaptive Front Light System (AFS).
Comfort – Best in class rear leg room & headroom space.
Convenience – Touch screen infotainment system along with gearshift controls on the steering wheel.
Patented Twin door Technology for the boot.
An Engine that is Turbocharged Fuel Stratified Injection (TSI), in the petrol version.
Transmission – Seven Speed DSG Automatic.
Additional features of the car include an Electric Sunroof, 16" alloy wheels, Parktronic – front and rear park distance control, and 565 liters of luggage compartment space in the boot.
The car is available in quite an exotic range of colors including Candy White, Rosso Brunello, Black Magic, Diamond Silver & Cappuccino Beige.
With this launch, Skoda Auto India hopes to fulfill the Indian auto customer's desire for perfection. The new Superb is intended to compliment the value added features associated with the Skoda brand that include commitment to quality, luxury, safety and advanced technology.
The company is extremely confident about the quality of its latest offering, and keeping that in mind, has set itself a reasonably upright target of selling 1,000 units of the car by the end of this year.
Considering the lineage of the car, and the barrage of awards that it has already won for itself, including the 2008 Golden Steering Wheel (Goldenes Lenkrad) in Germany as well as the award for the Most Beautiful Car at the Motor show in Katowice, Poland, we seem to have a real winner in the making, in the Indian automotive space as well!
Skoda Superb Prices
This time around, the company seems to have got its pricing act right, unlike with the previous version of the Superb. The ex-showroom price in Delhi is INR 1,888,743 (approx. USD 37,775) while in Maharashtra, where the car is made at Skoda Auto India's proprietary plant in Aurangabad, the car is more competitively priced at INR 1,840,001 (approx. USD 36,800).
Skoda Superb Colors: The all new 2009 Skoda Superb is available in Black Magic, Brilliant Silver, Cappuccino Beige, Candy White, Rosso Brunello.

Technical specifications for Skoda Superb (TSI (A)):
Engine
Engine type: Turbocharged petrol engine, in-line, liquid cooling system, direct injection, 16V DOHC, transverse in front
Cylinders: 4
Displacement: 1798 cm3
Max. power/revs [kW(bhp) at rpm]: 118(160)/4500-6200
Max. torque/revs [Nm at rpm]: 250/1500-4500
Transmission
Wheel drive: front wheel drive
Transmission: automatic 7-speed, DSG, with Tiptronic manual gear changing
Outside dimensions
Length: 4838mm
Width: 1817mm
Height: 1482mm
Wheel base: 2761mm
Ground clearance: 158mm
Inside dimensions
Storage capacity: 565 l
Storage capacity with rear seat back folded down: 1670 l
Weights
Kerb weight: 1567kg
Gross weight: 2091kg
Liquids
Tank capacity: 60 l
Performance
Turning circle diameter: 10.8m